Hi! I'm Kirstie Kay, a lifestyle and travel blogger for Share it Sister! I recently decided to take a girl's trip to Denver, and we had the best time exploring all that Denver and its surrounding towns had to offer on our quick three-day weekend. Taking a trip to Denver has always been at the top of my bucket list! Also known as the Mile High City, Denver has such a wide variety of things to see and do for everyone.
Getting There
Frontier aims to ensure that the sky is for everyone! With their 'Low Fares Done Right' model we were able to travel smart and at a low cost from Texas to Denver! Travel smart you say? Yes! Frontier Airlines is 43% more fuel efficient than any other airline which means they are the greenest option for travel!!! The flight was quick, easy and smooth and we can't wait to fly Frontier again!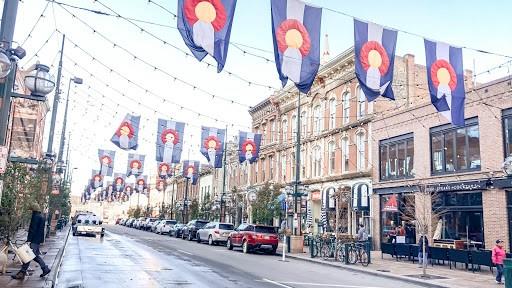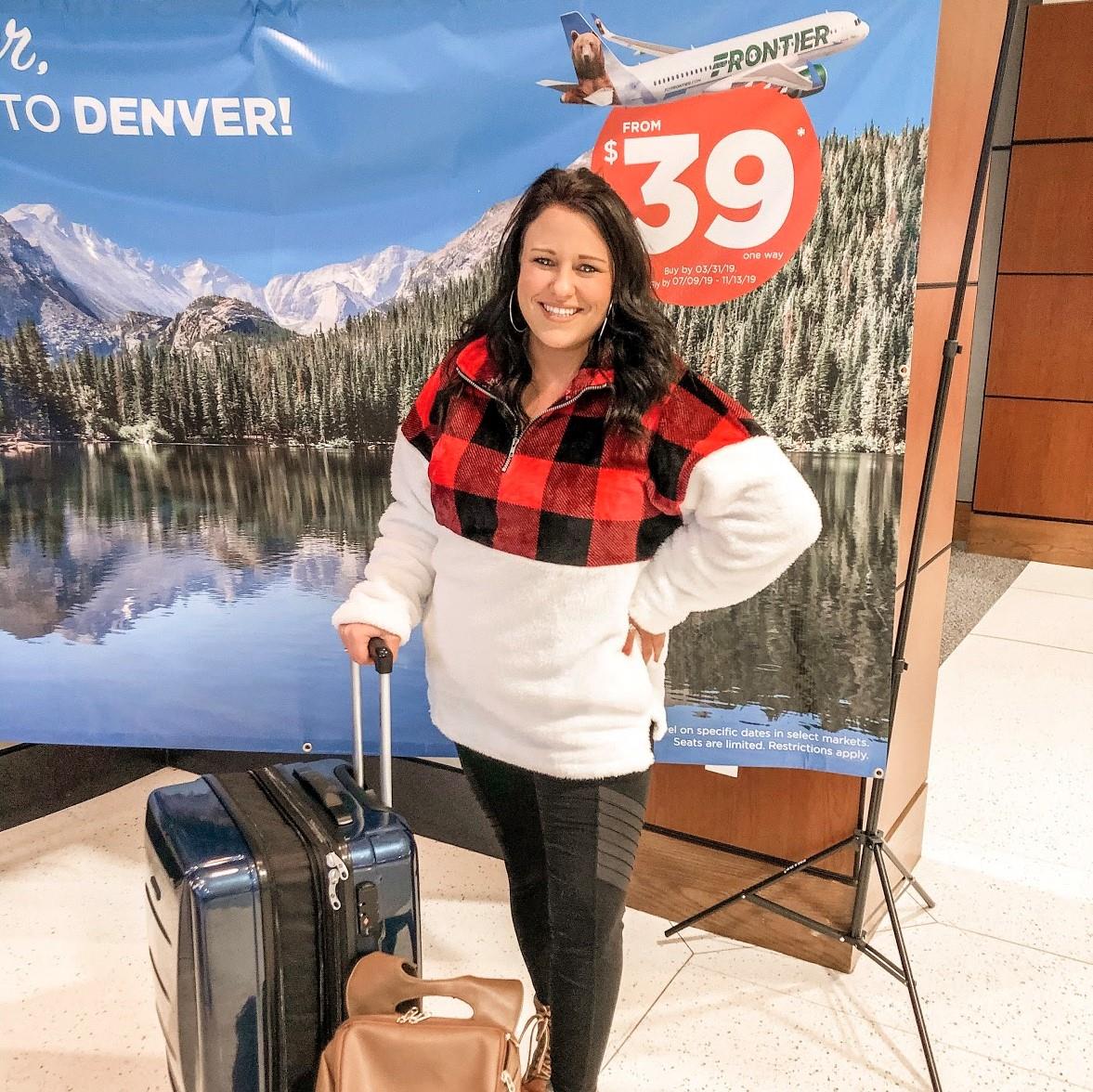 Left to Right: Larimer Square, Frontier Flight
Fun Things to Do in Denver
Explore Larimer Square
When researching things to do in Denver, Larimer Square is always recommended, and I quickly realized why. Larimer Square is the oldest and most historic block in Denver! It possesses a great deal of charm - strings of light over the street and is filled with cozy restaurants, bars and shopping. We spent our Friday night here exploring different restaurants. We made a stop at CRÚ Food & Wine Bar, for pre-dinner drinks and a delicious charcuterie board to start our night and finished off at Tamayo to enjoy an upscale Mexican cuisine and delicious margaritas.
Visit Red Rocks Amphitheater
I had always seen pictures of the Red Rocks Amphitheater and longed to visit! Red Rocks is the only naturally occurring, acoustically perfect amphitheater in the world. Some of the most famous musicians have played here throughout the years from Jimi Hendrix, The Beatles and The Grateful Dead. Concerts are not all this space is used for, during the days when there isn't a scheduled concert, admission is free into the amphitheater where you can spend your time exercising, hiking, biking and exploring. Be prepared if you are not used to the elevation - stair climbing is not as easy as it is back home.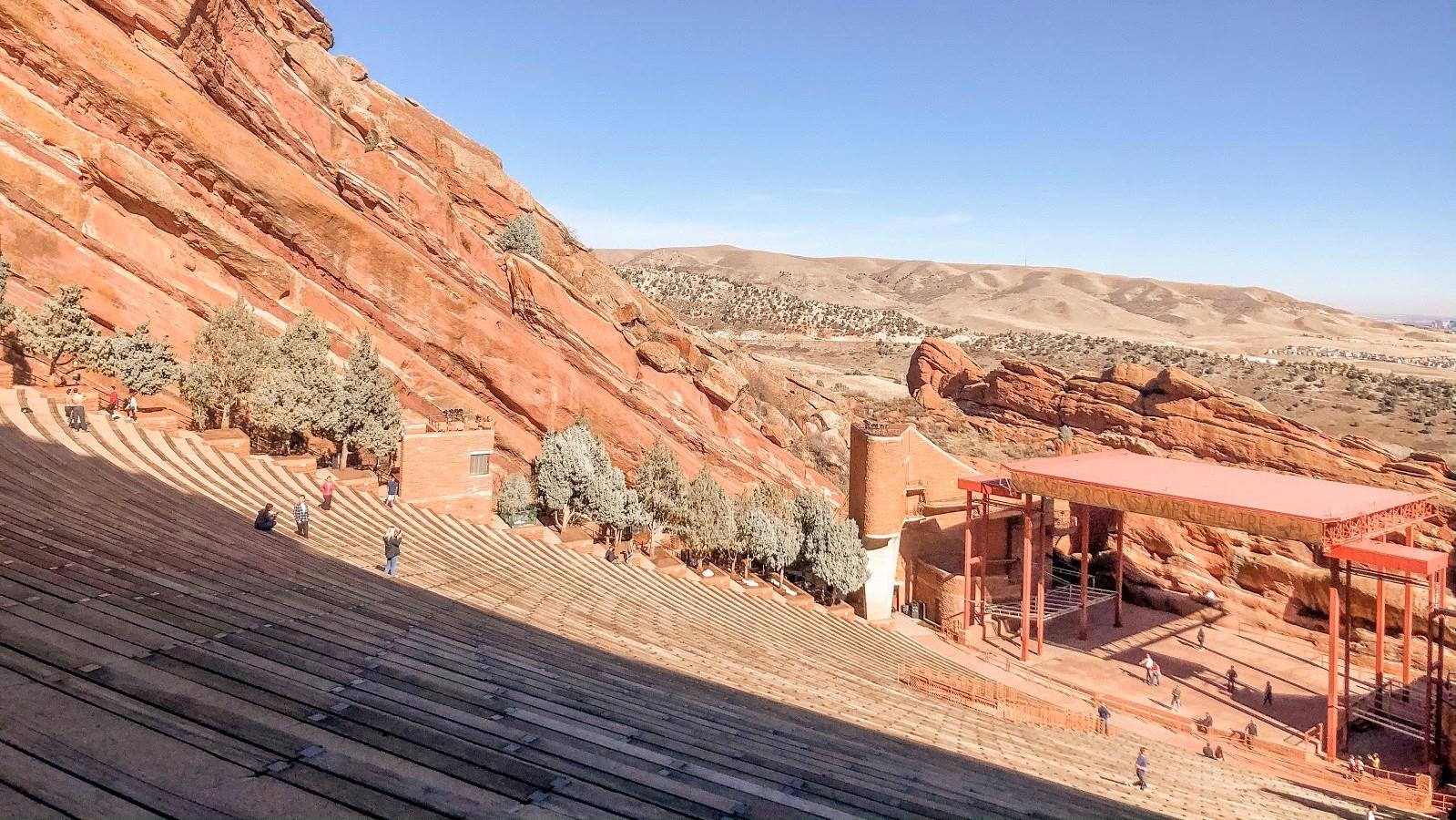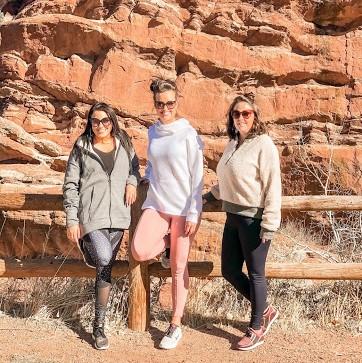 Shop at Cherry Creek Mall
Cherry Creek Mall is Denver's premiere shopping center with over 160 stores in one beautiful location. From luxury brands like Louis Vuitton, David Yurman, Tiffany & Co. to Fabletics and Nordstrom, Cherry Creek Mall is sure to have what you are looking for.
Hit the Best Brunch Spots in Downtown
Denver is such a great place to visit for foodies and offers so many wonderful brunch options throughout the city. We visited Sam's No 3. On our first full day in Denver and it did not disappoint! With large portions and delicious mimosas, we started our day in the best way. Other brunch spots that came highly recommended were: Snooze, Bacon Social House and Denver Biscuit Company.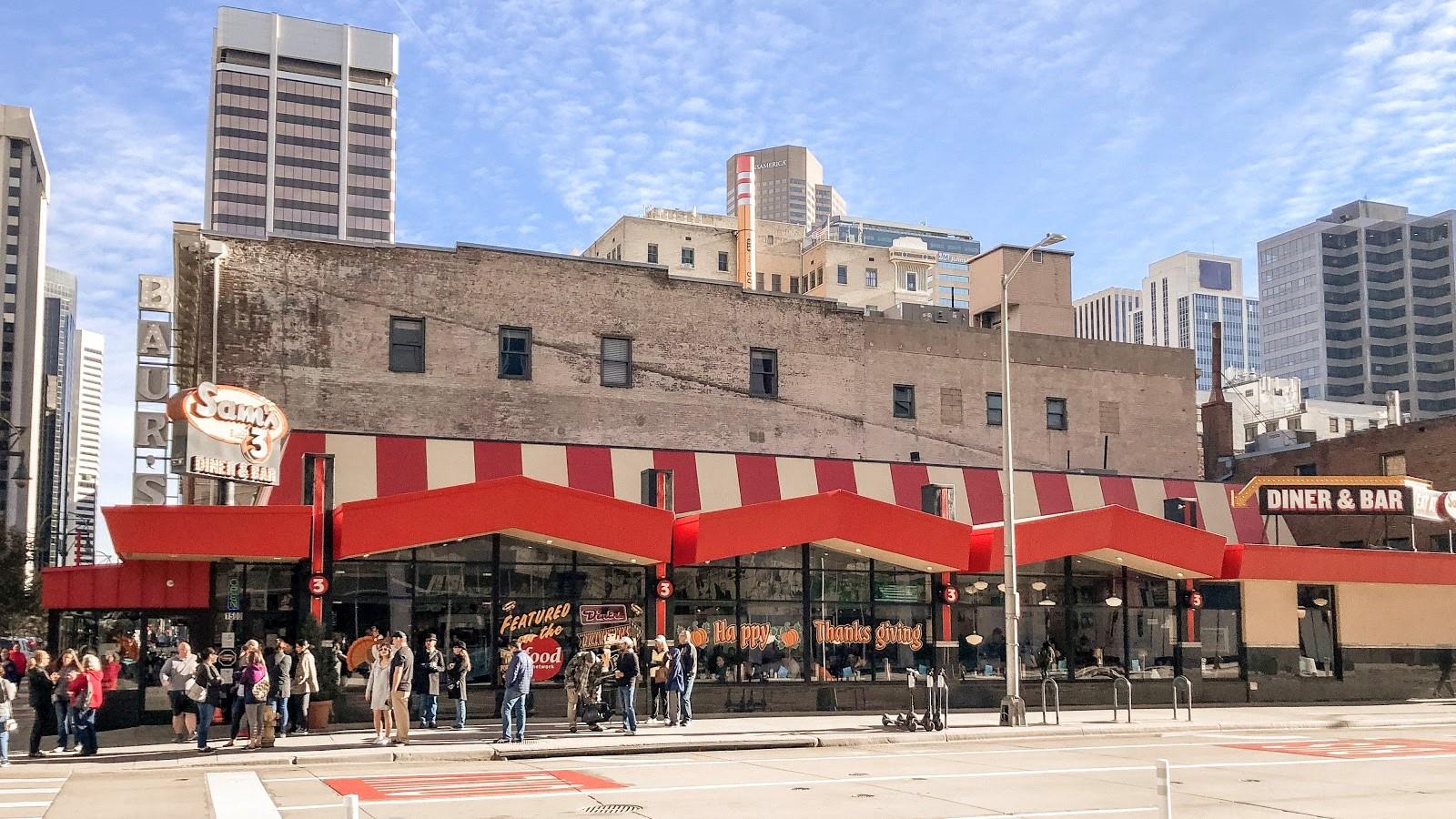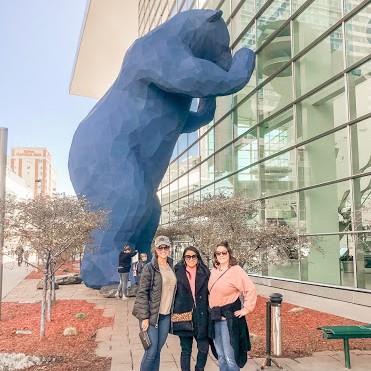 Left to Right: Sam's No. 3, "Big Blue Bear" at the Colorado Convention Center
Visit Union Station
Union Station is a beautifully renovated landmark and is downtown Denver's main transportation center. It opened in 1881 as the city's first railroad depot, and a renovation completed in 2014 reinvented the station as a transportation and visitor attraction. It is home to restaurants, bars, shops, and the beautiful Crawford Hotel. You can arrive, eat, sleep and dine all in "Denver's Living Room."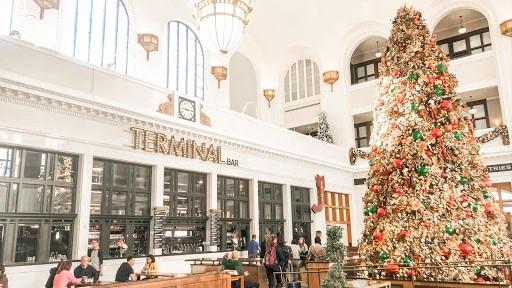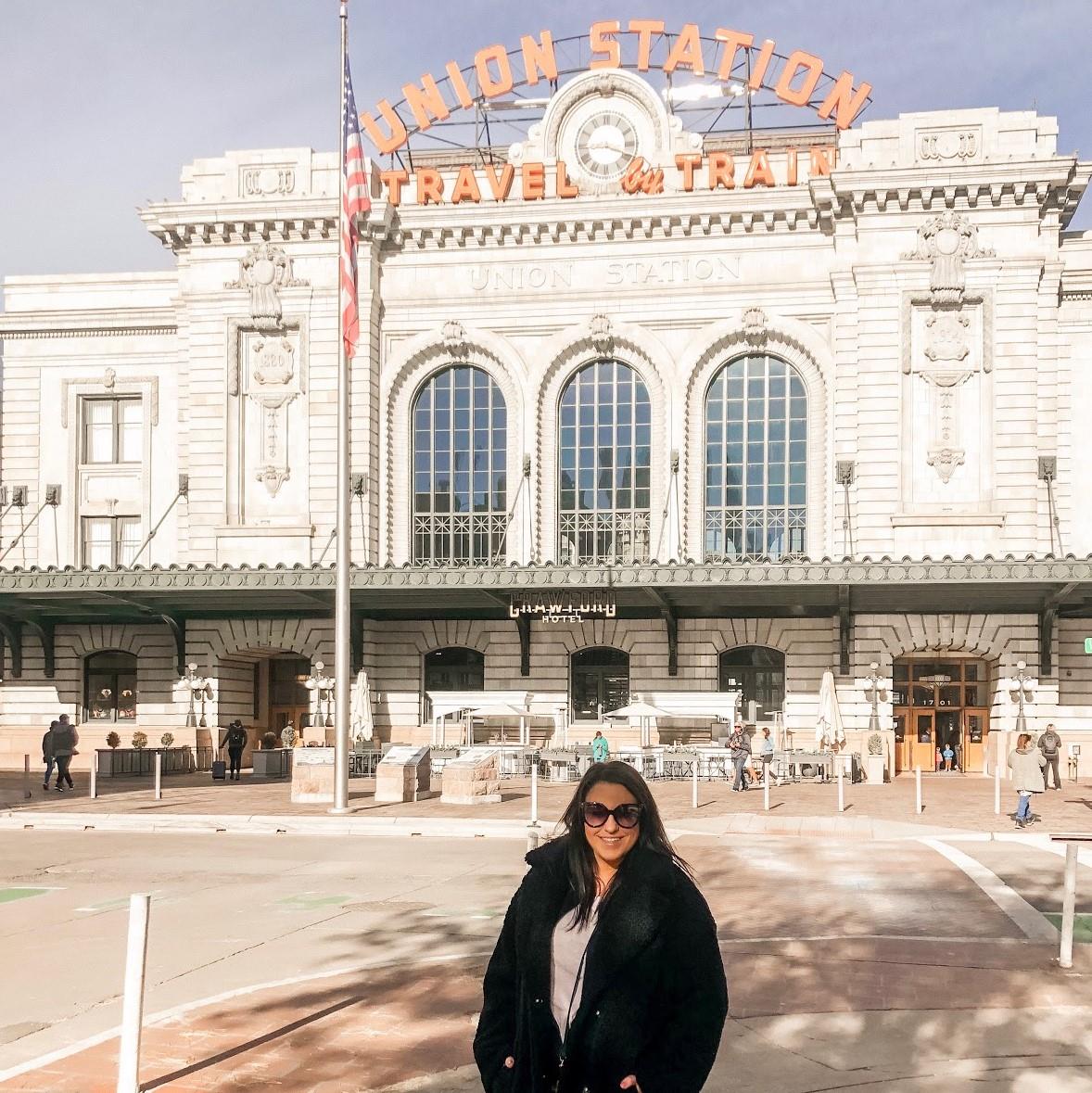 Want to experience a bit of the outdoors?
Boulder is a short 30-minute drive from Denver and a visit to Flagstaff Mountain is an absolute must. This area offers gorgeous views from every direction and is a great place to get out, camp, bike, and do some hiking. Plan to finish your hike and drive up to Lost Gulch Overlook towards the top of the mountain to watch the sunset, enjoy breathtaking views and capture the most amazing pictures while you are there!
I'm so thankful that Frontier made this trip affordable and possible! Now go! Book your flight with Frontier and enjoy your trip! Take in all the views, and fun things to do!