At Frontier, we strive to bring families and friends together. With our low prices and expansive flight network, we aren't in the business of just travel, but in the business of connecting each other. We want to be there when you need us most and, thankfully, that happens more times than not. Meet Bruce. Bruce is a very busy businessman who travels a lot. He was in the midst of becoming a dad and it was all going according to plan until an issue occurred. Thankfully, Frontier Airlines was there to help him with whatever he needed.
Becoming a parent is an exciting time in any person's life. It brings you joys that you never thought possible. But with those exciting and joyous times can easily come stress and uncertainty. We wanted to write something about Bruce and his experience on Frontier Airlines during these times, but he did it for us so wonderfully that we just decided to use what he wrote. Take it from here, Bruce.
"34 years ago today I was in a complex trial in Houston, Texas. The trial had been going for three days. All of a sudden the Bailiff became loud and anxious and asked the Judge to immediately take the phone call. This would not have happened today in court.
The telephone call came from Hoag Hospital in Newport Beach. The hospital Doctor told the judge that my wife, Cameron's mother, was in labor and the baby was expected very soon and at least 30 days earlier than planned. There were complications. The Judge told me to take the phone and the doctor repeated to me what he had told the Judge.
I said in open court, "Judge we need to continue this matter as I need to immediately return to California." The judge was phenomenal. He shouted, "Case continued, Bailiff go stop a taxi and hold it until Mr. Voss is ready to go to the airport, all counsel assist in putting his records and files together. Mr. Voss, is going with me to my chambers and we'll see if the great State of Texas can hold an airplane at the airport." Remember, these were different times.
Judge was on the phone with the airline representative. They were very great about the situation and said, "We will hold the airplane."
I ran downstairs with my briefcases and files and jumped in the waiting cab. Left my personal items at the hotel. Off to the airport. The situation was amazing, everything was working like clockwork. There was none of the "it cannot be done statements or the security trappings of today." Everyone was kind, polite and provided assistance.
I ran through the airport. When I arrived at the gate I looked like a "horse that had been run hard and put away wet." As I entered the jet, the announcement was made, "New father to be is now on board." Cheering erupted. We were soon moving down the tarmac.
The flight had to go to Denver first and then from Denver to Orange County. All the way to Denver I was hoping I would hear something about Cameron's birth. Nothing happened. Each time the flight attendant passed, her head movements said, "No news." 
As we deplaned I called from the phone booth in the Denver airport (they did not have cell phones in those days). I was connected to the hospital room where I spoke with a nurse who said, "Not to worry, they had everything under control."
We had lost a child at 6 months, so I was very concerned. Then, the nurse stated, "We are having difficulties with the fetal monitor readings, the heartbeat is all over the place." My hands were wet with perspiration and I remember watching the phone slip through my hand and hitting the floor. Again, she repeated, "It is all in good hands." I was not feeling comfortable.
As we boarded the jet in Denver I told the Captain of my situation with my child soon to be born. He explained, "I hope she's not on this flight." I gave him greater detail. I was thoroughly scattered in my thinking. He was relieved after hearing my explanation.
The Captain promised as soon as we were in the air he would keep in regular contact with the hospital and let me know what was happening. These were very anxious moments. Each time the flight attendant walked by I was hoping something would be said to me. However, nothing was said.
Somewhere over the Rocky Mountains, the pilot came on the radio and announced, "We have a new father on board! Mother and son doing very well!" The applause and cheering that took place will never be forgotten by me. 
The rest of the flight became a blur. Once we landed, I went immediately to the hospital and saw my new son. All was well.
The next day I sent a letter to the President of the airline outlining what had happened and thanking him and all the people for what they had done to assist me. Fortunately, I had everyone's name that had been involved.
Within a few days I received a letter from the President of the airline stating, "Occasionally I get a letter that brightens up my day. Your letter brightened my year."
In March of this year, Cameron and I flew to Tampa, Florida to see his older brother Ian, now a captain in the Marine Corps and stationed in Tampa, Florida.
A portion of our flight was via Frontier Airlines. This time I was much calmer."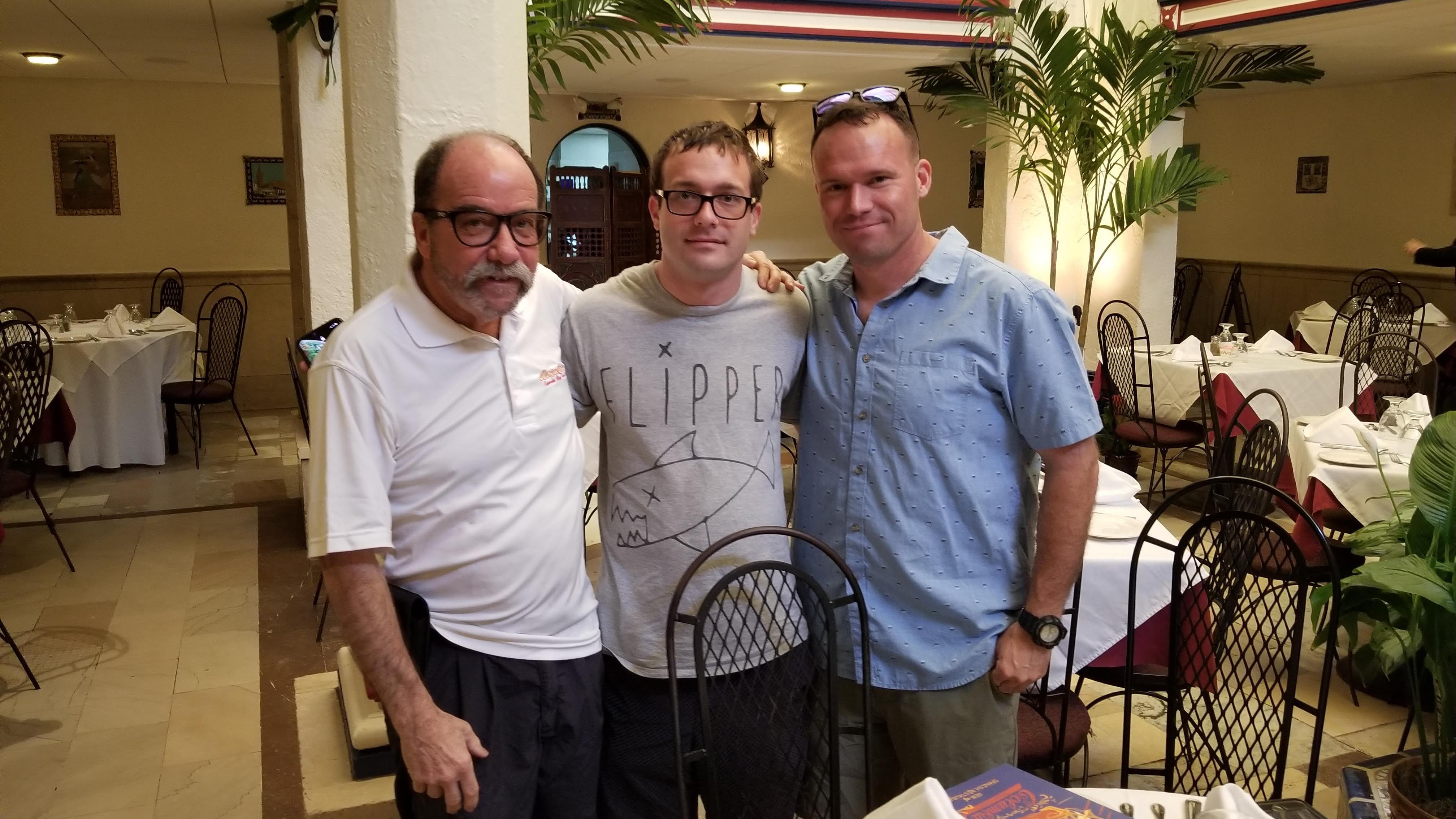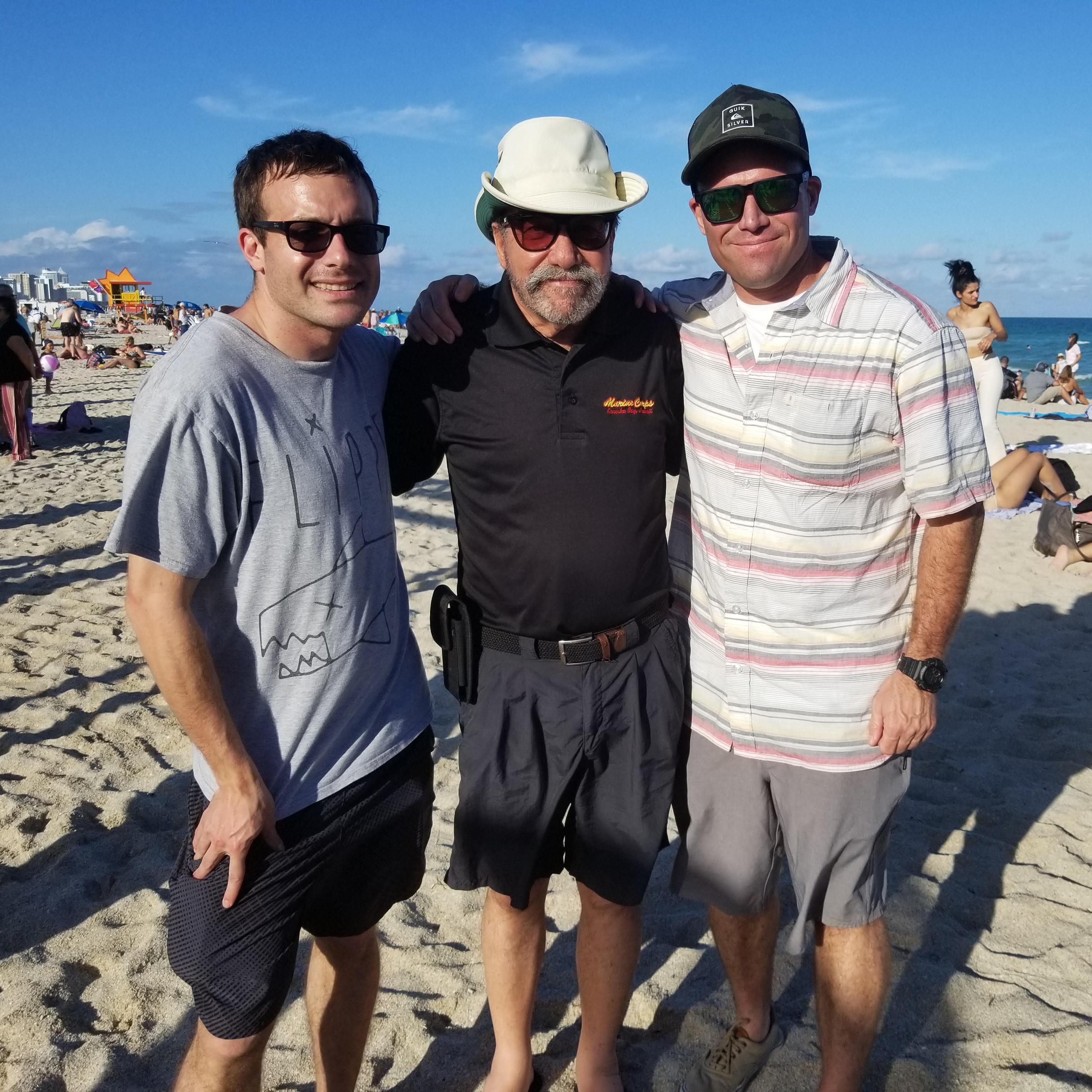 Bruce and Cameron visiting Ian in Tampa, Florida
Wow. Thank you so much for sharing this amazing story with us, Bruce! We are so glad that we were able to help you in this immensely difficult time. With such low fares, we hope that we can also help you, the reader, get to where you need to be as well. Book NOW to get the best prices and don't forget to tag #herewithfrontier on your social posts so we can see where we take you and a chance to be featured!
*Photos taken pre-COVID.