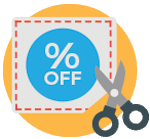 75% OFF!
Save 75%* off your next flight with us! Use promo code: SAVE75.
Don't forget to check out our other Deals!
*Buy by: 8/9/17. Fly through 2/10/18. Valid Tuesdays, Wednesdays, and Saturdays for US domestic travel in select markets. The following blackouts apply: Sep. 2, Sep. 5, Nov. 21-22, Nov. 25, Nov. 28, Dec. 19, 2017 through Jan. 3, 2018. 7 day advance purchase is required. More about this offer.